The kids and I have been in our place for almost 6 months now and I still have bits and pieces that still need tweaking in regards to decorating. Just when I think I am happy with how a certain wall or area looks I find something new that will make it look better and end up rearranging and making it better. I honestly think I will be doing that forever though.
Alphabet photography
is a really different sort of artwork. They use things that you would see in your everyday life and may not even take a second glance at. They use the photographs of these items as letters. A tree can look like a t and a close up of a pineapple tree can look like the letter v.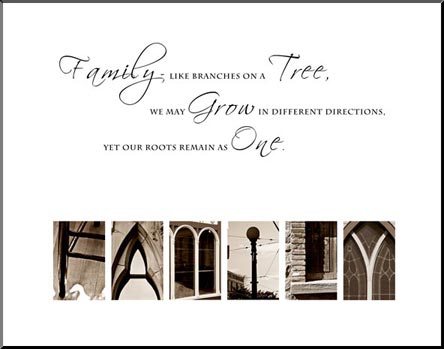 Another really cool thing that alphabet photography uses is people that are doing all sorts of acrobatic moves to make themselves look like letters. It's really neat and looks so cool.
I got prints done that say "family" and another that says "love". I love them, they hang just inside my entrance way. People always ask about them because they are so unique. There is not much out there that is similar. I love these prints and they mean a lot to me. The love print especially. The saying on it just hits home for me. These were mounted on wood and would make an excellent Christmas gift for someone special, they are only $34.99 and available at
Alphabet Photography's website
!